Shopping Basket
Your Basket is Empty
There was an error with PayPal
Click here to try again
Thank you for your business!
You should receive an order confirmation from Paypal shortly.
Exit Shopping Basket
Traveling Drum School & Freelance Drumming
| | |
| --- | --- |
| Posted on 21 November, 2013 at 0:13 | |
Hello friends,
   It's been awhile! Hope all is well. I've been doing well and keeping very busy. For those who haven't seen this yet, here's an article I wrote that was recently published in The Holiday Cafe's fall issue. Check out more of their awesome online magazine @ www.TheHolidayCafe.com, and if you like this article…please stop by and support this local Pittsburgh landmark!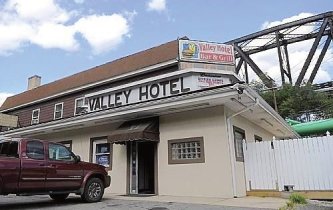 The Valley Hotel 

A musician's perspective of the haunted venue







   On a late August Saturday night, approximately 8:20 PM. I pull up to the Valley Hotel.  The parking lot is filled with cars, so I drive around to the back of the building to unload my gear before I find a place to park. Once I get out of my car I notice how dark it is back there, the moonlight mixing with the streetlights and a little bit of fog. Looks like a perfect scene for a horror movie! The stories of this hotel turned music venue always fill my mind while I'm walking to the door. Tales such as hearing unexplained voices, sounds of footsteps, and seeing ghostly images in mirrors are the most popular. I've even heard stories of things disappearing behind the bar, then reappearing weeks later. 

    But then I walk through the door and everything seems normal. I'm greeted by Paul, a fellow drummer who is usually the guy who's running things. This night is just like the others. He makes sure me and the other members of The Satin Hearts have everything set up on stage the way we prefer. The Valley is very accommodating in the equipment department. They are one of the only venues to have full house gear: Drum set, amps, pa, and a bunch of guitars and basses lining the walls of the stage. Everything in working order and ready to use. In addition, Paul can be doing triple duty on any given night; working behind the bar, running sound and lights, plus even doing some cooking when the kitchen's open. When were setting up, there is a giant screen in front of the stage projecting live TV, sporting events etc to the audience so you can't see us. When the clock strikes 9:30, the screen gets pulled up and the music starts. 

    The view from the stage can change. Sometimes the lights are bright and vibrant, inviting a rock n' roll explosion to emerge. Or sometimes they're dimmer, which can bring it down a notch, making the place feel like an old roadhouse or nightclub. A type of place where legends like Little Richard or Carl Palmer would play at back in the late 40's & 50's. The stage is actually behind the bar, similar to the Tony Marts nightclub stage (which was featured in the 1983 film "Eddie & The Cruisers"). The upper wall facing the stage is aligned with posters. Some of the inspirational artist posters, such as Bob Marley and Jimi Hendrix, give the place the feeling it's a music venue, not a sport's bar that also has music. Then there's a poster size pic of the owner's dog Sandy, which is mixed in with the musician ones. Love it! The owner, Duel, is also a fellow musician and very nice guy. He's always very gracious and usually pops in sometime during the night to watch some of our set. I asked Duel & Paul recently about any weird paranormal experiences they know of there. They told stories of bar stools moving on their own, and what appeared to be an apparition sitting at the bar after hours (seen from a surveillance camera). I wouldn't be surprised if spirits where present, and I'm not talking about the liquor either! 

   The Valley Hotel dates back to 1863, where it was originally called The Granger Hotel.   It was first owned by a family of the same name. The club is located in the Jefferson boro / Clairton area, near the river and close to where a lot of steel mills were, and some still are today. In 1971, there was was a fire that destroyed the third floor. The fire and renovations over the years have altered the appearance a bit, but overall it still has quite a few of the same features the original had. 

   After all my performances at the Valley, I have never seen anything supernatural, or any ghosts in the crowd! I don't think i'd mind if I did because the place gives off a good vibe. If there are spirits lurking in dark corners i'm sure there music fans and there to watch the show like everybody else. Today, music is the main feature at this 150 year old gathering place. 


































 

Categories: The Postive Spin on Drums

0

/