Shopping Cart
Your Cart is Empty
There was an error with PayPal
Click here to try again
Thank you for your business!
You should be receiving an order confirmation from Paypal shortly.
Exit Shopping Cart
Traveling Drum School & Freelance Drumming
| | |
| --- | --- |
| Posted on 27 February, 2015 at 12:08 | |
   There's been many drummers throughout history who have taken on numerous roles in a group, or in their lifestyle. Amir-Khalib "Questlove" Thompson, most notably known as the drummer for the hip hop group The Roots, is definitely a great example. He's a seasoned musician who does much more than hold down a beat. Questlove, or as it's sometimes written ?uestlove, is also a sought-after producer who has worked with a broad range of artists. His work in that field was crucial to the development of the Neo Soul sound during the late 90's / early 2000's. Today, he can be seen with The Roots every weeknight on The Tonight Show with Jimmy Fallon. He's not only behind the kit, but frequently appears in skits. Beyond that, you can often catch him in various music documentaries, and in concert as a DJ. Try googling his name and see what comes up! 
    Recently I got a triple dose of Ahmir's creative side when I came across three drum products he had a hand in developing. First, a couple years ago I was looking to purchase a smaller scale set for my rehearsal space. After a week or so of research I found out about this set; 
Live @ Wheeling Island Casino, WV. Feb '15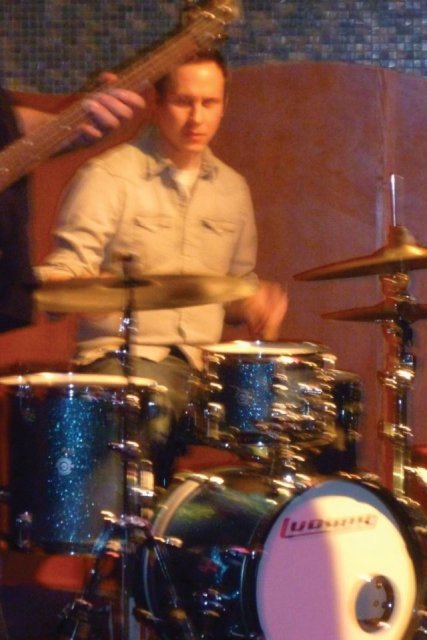 From watching this promo video and seeing it in person the kit was definitely a good buy, especially with the $399 price tag! The set came fitted with Remo Pinstripe tops and clear 1 ply bottoms. Even though the kit sounded real good to me, I desired to have tones truer to what I prefer. I went with my normal coated top / clear bottom head combination (see the "Current Set Up & Sound" page on this site for more info)...now I feel the kit's sound palette is over the top!  So good in fact that bandleaders and sound engineers have requested I bring it. I brought it to rehearsals at first, then it made its way to the stage and the studio. Granted it's no Maple or Birch kit, but it has a warm, vintage tone similar to mahogany (Ludwig describes it as "select hardwoods"). I think the breakbeat really gives some jazz kits of the 60's & 70's a run for their money. The hardware far surpasses anything from the vintage era for sure. It's so easy to carry and set up, plus looks great under lights. Absolutely no complaints. Even the bags it comes with are durable!
   The next twist of fate came in a text from my friend that went something like this; " "U hear Quest has a book out?" I was definitely psyched to hear that! We met him back in 2002 during the Phrenology tour. Very cool, laid back kind of guy. Really wanted to check that book out and see more into his world and influences so I had to pick it up.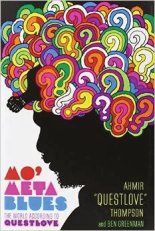 Initially I thought it may have been more drum instructional based, but  "

Mo' Meta Blues"

is a much broader, excellent read detailing so much from his life & influences. It is overall really inspiring. Stories of all kinds, evoking every type of emotion. The man has definitely lived thus far and continues to keep moving forward. Much respect to his work ethic and dedication to the craft. 

   Lastly, a few weeks ago I was looking for a new stick to try out and show students. I stumbled upon the Questlove Signature Stick by Vic Firth. I tried a friend's pair briefly once before and remember it being pretty cool. Similar to a 7A, but noticeably longer (roughly an inch longer than average), this stick has great rebound. I especially noticed that when playing closed hihats; really tight sound. The acorn tip also brings out some bright tones on the snare. The design works good for playing grace notes as well. The stick reminds me of the Steve Jordan model with a little more weight and bigger tip. The white paint on the shoulder chipped pretty quick when a few students rocked out with them a bit. Plus the rubber on the handles wore off after a few days. I feel they would've held up much better if they'd been played by one person, mostly tip of the stick on the cymbals w/ moderate force. Overall, me and most of the <Traveling> Drum School students agree it's a nice stick. You can also see him playing these, as well as the Breakbeat kit, in the clip below. 

 










Categories: The Postive Spin on Drums

0

/