Shopping Basket
Your Basket is Empty
There was an error with PayPal
Click here to try again
Thank you for your business!
You should receive an order confirmation from Paypal shortly.
Exit Shopping Basket
Traveling Drum School & Freelance Drumming
The RB DrumCo. Loan program starts today!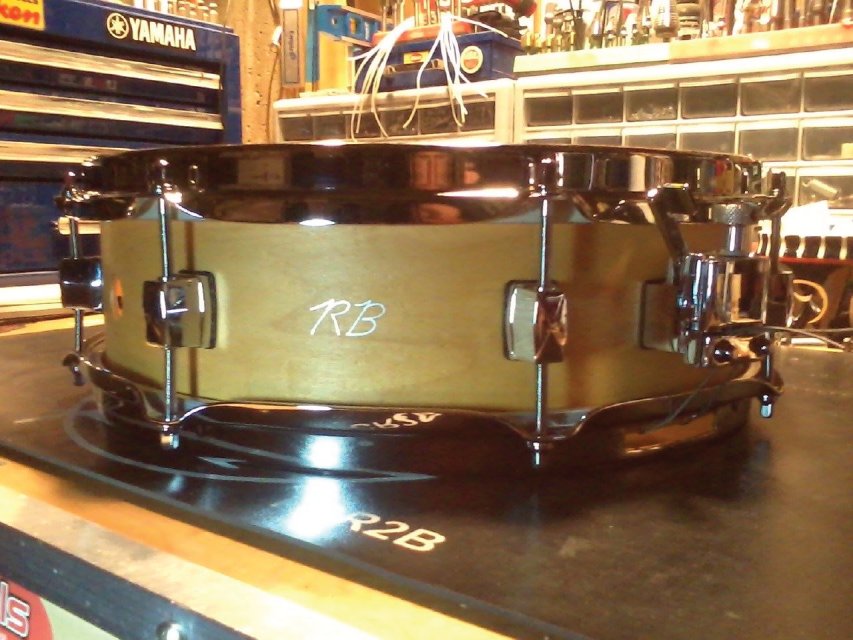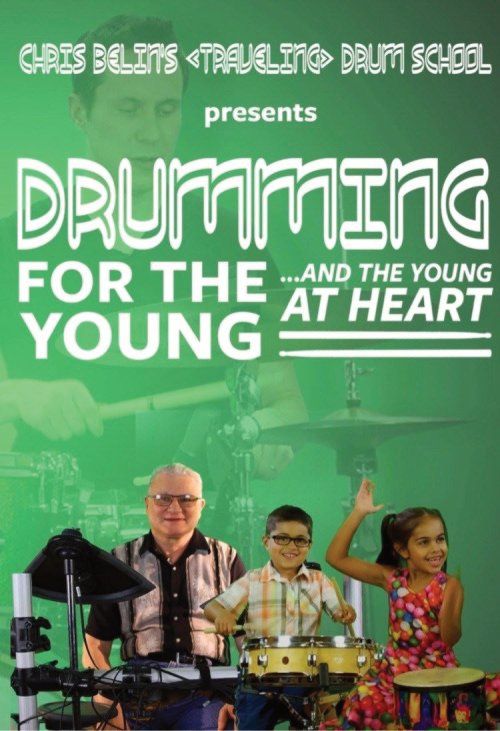 I'll be lending out a custom snare built for me by owner Rich Bloom in October of 2016 to select Pittsburgh area drummers. I've used this drum for dozens of live performances and it appears in my instructional DVD "Drumming for the Young and the Young at Heart" 
   The rules are simple...there really aren't any! Drummers are encouraged to use the drum in concert and in the studio; take pics, post videos, change the heads, try different snare wires, etc. Feel free to post comments to the RB Facebook page, send directly to Rich, me, or comment on this post....just please take care of it and return it as close to as original condition as possible...If your selected for this program then I trust you! Enjoy!! 
Specs;
4x14 6 ply, 8 lug maple shell
35 degree bearing edges (outside & inside)
Vintage maple satin oil finish 
Dual sound holes
35 degree edges (outside & inside)
2.3 Slingerland hoops
Yamaha style lugs, Pearl style throw off. 
20 strand snare wires. 
Stock heads: Attack, 1 ply medium coated top and snare side thin bottom. 
Any interested drummers please PM me. Thanks! #RBDrumCo. 
Good morning friends,
   Below is an article my wife wrote that was published this past Friday! It was written at the end of 2015 and is a little out of date. In addition to the story below, she is now performing alongside me with The Redlines this Summer, and we just returned from two back-toback shows in Ft. Lauderdale, FL during Shark Week!  
   Natalie always gives 100% in her playing and keeps growing as a musician with every new opportunity. I hope you all enjoy this article. I feel it's very inspiring to any musician. 
-Chris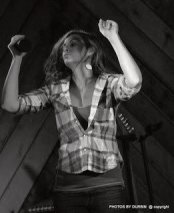 My name is Natalie Belin. I'm 31 years old and have been a drummer most of my life. I started taking 
lessons on the snare in the 5th grade, followed by the drum kit in my early 20's. Now I have a passion to play different types of percussion. I really enjoy experimenting with different sounds & rhythms associated with each instrument.
Most aspects of my life can be very unpredictable at times. I plan to make things happen the way I envision, but it often derails causing me to take a different direction. When I am forced to an alternate route it's frustrating at first…but often all works out! In my mind it's another piece of the puzzle to why I am here on earth. During these times of craziness, drumming has always found a way into my life.
My stepdad, Stephen Dunn, has been a music fan since he was a little kid. His instrument of choice has been the bass guitar since the mid / late 70's. He was one of the first people in my life who took the time to educate me in music. When I was younger he would always try to introduce me to music he was listening to at the time. Often it was blues, and sometimes it was rock. I remember around the time I started learning how to play my drum kit Steve started playing in a band called The Blue. At times the band members would encourage me by saying they could tell "I have heart", or they would take the time to show me different things to play. They would always encourage me to "keep practicing". I remember on a few occasions the band would allow me to jam with them on stage. I was so nervous, but excited at the same time! When it comes to music, my personal opinion about my stepdad is that he really doesn't have an off-switch. It's always "music, music, music". I recently asked "why he didn't become a famous bass player?" his response was "it's not always about becoming famous. Sometimes you have to just do it for the music". Another good piece of advice Steve told me was "you are never too old to play an instrument".
My husband, Christopher Belin, is a musician. Chris has been playing the drums since he was 2 years old and is the sole proprietor of Chris Belin's <Traveling> Drum School, in addition to being a professional freelance drummer. The fact that both of us play some form of percussion definitely helps our relationship more than anything. Sometimes I have to laugh because I know I surprise him with the things I notice. For example, we were at a concert and I said "is that guy playing the cowbell on the offbeat?" Chris stopped and listened for a second, and he responded by saying "yea, he is" keep in mind Chris had been impressed, but he had a shocked look on his face.
The first show Chris and I played together was this past spring. The show was a Nancy Guthrie Conference held at the First Reformed Presbyterian Church in Pittsburgh. There were approximately 400 women present for this conference. Chris was playing hand drums (Congas and Cajon). I played conga, tambourine and a shaker. Ever since that show it has been very busy for us.
 Chris and I now play in a band called Steeltown Religion, which is a country / classic rock band. Chris will play a full kit while I play a variety of shakers, tambourines, and a slap stick. They just released a new album titled "Florida Rain" on iTunes & disc. I'm very excited to play these songs live because it will give me an opportunity to hopefully bring some new percussion into the mix. The band also breaks down into smaller units, playing acoustic sets, where I play a bigger variety of percussion.
Steve, Chris and I are also in a band called The Ben Flint Band. They are currently a cover band that plays a variety of really good music. For this particular group, I will play tambourine or a variety of shakers on a few songs. I hope to play some hand drums for Ben Flint in the near future....just to stir the pot a little!
Also, I had the opportunity to play with The New Mingle, an instrumental duo with Chris and his close musical comrade Matt Calvetti, this past September for an event in Pittsburgh called Run around the Square. Their music is jam based and often improvisational.
Each band that I have had the opportunity to play in is different in dynamic which has helped me grow as an artist. Each member of the bands that I play in I consider a coach because they give me great advice which leads me to make good decisions in playing the types of percussion that I do.
There is one particular artist that I hope to work with in the near future. Her name is Christiane D. Her music is so fresh and diverse. Every musician she has in that band brings something to the table. The things that Christiane has done for the arts and what she has accomplished are incredible. With Christiane's music being so diverse I know I would be able to bring in some fun and funky percussion. My fingers are crossed.
"Music expresses that which words cannot be put into words and that which cannot remain silent". – Victor Hugo
 Victor, I totally understand what you mean by that quote. People may see me as just a percussionist; however, I help the band stay in time. I also add fullness. My goal is to inspire other woman to play percussion. When people are at a venue that I am playing I want to give the crowd a night to remember! I want my percussion sound to be fresh and shocking, but not overdone. 
Natalie Belin holds an Associate's degree in Specialized Technology Le Cordon Bleu Pastry Arts.  Natalie is a part-time percussionist and loves the arts and adventure!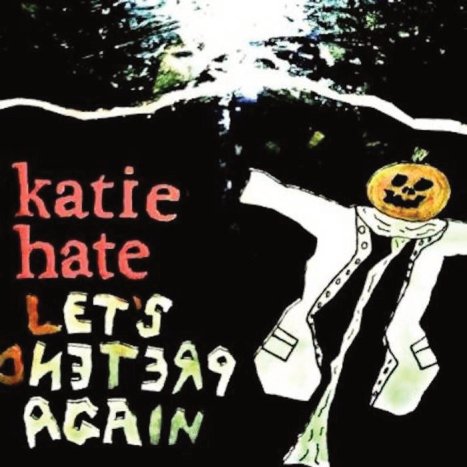 This past Thanksgiving as I was driving to visit my family for the holiday I decided to make "Let's Pretend Again", the first full length album from Katie Hate, my soundtrack. Right out of the gate track 1 got me interested with a gradual, dynamic build showcasing the trio's strong instrumental playing. The song then exploded into a catchy, yet complex, tune mixed with different feels & energies. 
   I was familiar with the second track, "Good Enough For You", from their single release a few months back. This was a great choice for song #2; high energy & grabs your attention..great for driving too! After the next track I immediately thought this collection of songs was going to be an "album".  By definition, album is commonly referred to as "one or more CD's, cassettes, or long playing records released as a single item". This is true, but an avid music fan usually describes an album as a collection of songs from a single artist or group that seamlessly blend and compliment each other, capturing an era in time. I definitely feel this is the case for "Let's Pretend Again". In my opinion an album, not just a collection of singles, is on the same level as an individual piece of fine art.  
    As I've listened to the album almost daily for weeks it grows on me more & more, and I get inside the vision of what this release for the band is all about. From the deep, lyrical content of Max Theofilis' mind mixed with his intense guitar playing, to the tasteful, creative, & energetic drum parts from Jake Saltzman, and finally with bassist Bobby Fello; rounding out the low end and picking perfect points where he shines through, the band is tight and their songs are good. Fans of Dookie era post punk to hard rock will definitely appreciate this record, but the band is much more than that. Katie Hate mixes dynamics and elements from various genres to create a very unique blend that would appeal to any open-minded music fan. 
Without giving anything more away, check it out for yourself… 
://katiehate.bandcamp.com/album/lets-pretend-again:
www.KatieHateBand.com
   There's been many drummers throughout history who have taken on numerous roles in a group, or in their lifestyle. Amir-Khalib "Questlove" Thompson, most notably known as the drummer for the hip hop group The Roots, is definitely a great example. He's a seasoned musician who does much more than hold down a beat. Questlove, or as it's sometimes written ?uestlove, is also a sought-after producer who has worked with a broad range of artists. His work in that field was crucial to the development of the Neo Soul sound during the late 90's / early 2000's. Today, he can be seen with The Roots every weeknight on The Tonight Show with Jimmy Fallon. He's not only behind the kit, but frequently appears in skits. Beyond that, you can often catch him in various music documentaries, and in concert as a DJ. Try googling his name and see what comes up! 
    Recently I got a triple dose of Ahmir's creative side when I came across three drum products he had a hand in developing. First, a couple years ago I was looking to purchase a smaller scale set for my rehearsal space. After a week or so of research I found out about this set; 
Live @ Wheeling Island Casino, WV. Feb '15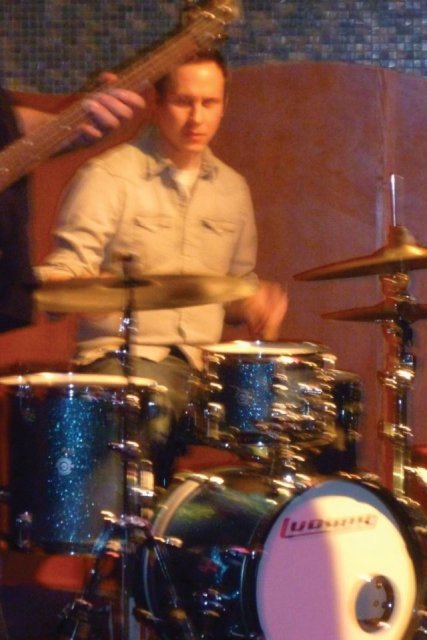 From watching this promo video and seeing it in person the kit was definitely a good buy, especially with the $399 price tag! The set came fitted with Remo Pinstripe tops and clear 1 ply bottoms. Even though the kit sounded real good to me, I desired to have tones truer to what I prefer. I went with my normal coated top / clear bottom head combination (see the "Current Set Up & Sound" page on this site for more info)...now I feel the kit's sound palette is over the top!  So good in fact that bandleaders and sound engineers have requested I bring it. I brought it to rehearsals at first, then it made its way to the stage and the studio. Granted it's no Maple or Birch kit, but it has a warm, vintage tone similar to mahogany (Ludwig describes it as "select hardwoods"). I think the breakbeat really gives some jazz kits of the 60's & 70's a run for their money. The hardware far surpasses anything from the vintage era for sure. It's so easy to carry and set up, plus looks great under lights. Absolutely no complaints. Even the bags it comes with are durable!
   The next twist of fate came in a text from my friend that went something like this; " "U hear Quest has a book out?" I was definitely psyched to hear that! We met him back in 2002 during the Phrenology tour. Very cool, laid back kind of guy. Really wanted to check that book out and see more into his world and influences so I had to pick it up.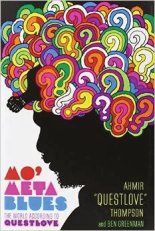 Initially I thought it may have been more drum instructional based, but  "
Mo' Meta Blues"
is a much broader, excellent read detailing so much from his life & influences. It is overall really inspiring. Stories of all kinds, evoking every type of emotion. The man has definitely lived thus far and continues to keep moving forward. Much respect to his work ethic and dedication to the craft. 
   Lastly, a few weeks ago I was looking for a new stick to try out and show students. I stumbled upon the Questlove Signature Stick by Vic Firth. I tried a friend's pair briefly once before and remember it being pretty cool. Similar to a 7A, but noticeably longer (roughly an inch longer than average), this stick has great rebound. I especially noticed that when playing closed hihats; really tight sound. The acorn tip also brings out some bright tones on the snare. The design works good for playing grace notes as well. The stick reminds me of the Steve Jordan model with a little more weight and bigger tip. The white paint on the shoulder chipped pretty quick when a few students rocked out with them a bit. Plus the rubber on the handles wore off after a few days. I feel they would've held up much better if they'd been played by one person, mostly tip of the stick on the cymbals w/ moderate force. Overall, me and most of the <Traveling> Drum School students agree it's a nice stick. You can also see him playing these, as well as the Breakbeat kit, in the clip below. 
Hello friends,
   It's been awhile! Hope all is well. I've been doing well and keeping very busy. For those who haven't seen this yet, here's an article I wrote that was recently published in The Holiday Cafe's fall issue. Check out more of their awesome online magazine @ www.TheHolidayCafe.com, and if you like this article…please stop by and support this local Pittsburgh landmark!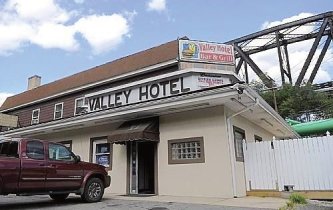 The Valley Hotel 
A musician's perspective of the haunted venue
   On a late August Saturday night, approximately 8:20 PM. I pull up to the Valley Hotel.  The parking lot is filled with cars, so I drive around to the back of the building to unload my gear before I find a place to park. Once I get out of my car I notice how dark it is back there, the moonlight mixing with the streetlights and a little bit of fog. Looks like a perfect scene for a horror movie! The stories of this hotel turned music venue always fill my mind while I'm walking to the door. Tales such as hearing unexplained voices, sounds of footsteps, and seeing ghostly images in mirrors are the most popular. I've even heard stories of things disappearing behind the bar, then reappearing weeks later. 
    But then I walk through the door and everything seems normal. I'm greeted by Paul, a fellow drummer who is usually the guy who's running things. This night is just like the others. He makes sure me and the other members of The Satin Hearts have everything set up on stage the way we prefer. The Valley is very accommodating in the equipment department. They are one of the only venues to have full house gear: Drum set, amps, pa, and a bunch of guitars and basses lining the walls of the stage. Everything in working order and ready to use. In addition, Paul can be doing triple duty on any given night; working behind the bar, running sound and lights, plus even doing some cooking when the kitchen's open. When were setting up, there is a giant screen in front of the stage projecting live TV, sporting events etc to the audience so you can't see us. When the clock strikes 9:30, the screen gets pulled up and the music starts. 
    The view from the stage can change. Sometimes the lights are bright and vibrant, inviting a rock n' roll explosion to emerge. Or sometimes they're dimmer, which can bring it down a notch, making the place feel like an old roadhouse or nightclub. A type of place where legends like Little Richard or Carl Palmer would play at back in the late 40's & 50's. The stage is actually behind the bar, similar to the Tony Marts nightclub stage (which was featured in the 1983 film "Eddie & The Cruisers"). The upper wall facing the stage is aligned with posters. Some of the inspirational artist posters, such as Bob Marley and Jimi Hendrix, give the place the feeling it's a music venue, not a sport's bar that also has music. Then there's a poster size pic of the owner's dog Sandy, which is mixed in with the musician ones. Love it! The owner, Duel, is also a fellow musician and very nice guy. He's always very gracious and usually pops in sometime during the night to watch some of our set. I asked Duel & Paul recently about any weird paranormal experiences they know of there. They told stories of bar stools moving on their own, and what appeared to be an apparition sitting at the bar after hours (seen from a surveillance camera). I wouldn't be surprised if spirits where present, and I'm not talking about the liquor either! 
   The Valley Hotel dates back to 1863, where it was originally called The Granger Hotel.   It was first owned by a family of the same name. The club is located in the Jefferson boro / Clairton area, near the river and close to where a lot of steel mills were, and some still are today. In 1971, there was was a fire that destroyed the third floor. The fire and renovations over the years have altered the appearance a bit, but overall it still has quite a few of the same features the original had. 
   After all my performances at the Valley, I have never seen anything supernatural, or any ghosts in the crowd! I don't think i'd mind if I did because the place gives off a good vibe. If there are spirits lurking in dark corners i'm sure there music fans and there to watch the show like everybody else. Today, music is the main feature at this 150 year old gathering place. 
Hello everybody,
    For the next few months I will be switching blog postings from weekly to periodically. This is due to the extra time I will be putting into lots of new <Traveling> Drum School content, upcoming recording sessions, shows,and finishing the final edits on my first official drum book. There will be new blog posts I assure you, just not on a consistent weekly basis as they've been for the past year now. Weekly posts will be back in the future.
   I will continue to update when a new blog is posted via Facebook & Twitter. If you would like to receive those updates, make sure you are connected to me on either site. If not, please send me a personal message to
[email protected]
or comment on this post to let me know how you'd like to be notified. 
   Thank you for visiting and hope you've enjoyed the content thus far. Many more topics planned, please stop back. 
                                          Sincerely,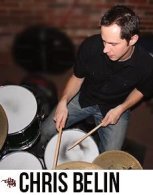 In my experience it's always best to be overly prepared for a recording session. This week's blog details a routine I often fall into leading up to the session date. There can be lots of unpredictability tracking drums, but one thing you can count on is that if you don't know the songs inside and out, chances are slim it will be a smooth process.
   The following is a typical step-by-step process for me, where I don't know the tunes beforehand or have never worked with the artist. I am currently toward the end of this process now, as of today I'm on step 6 in preparation for laying down the drum tracks for guitarist / songwriter Zac Lloyd's upcoming EP in the coming weeks.   

1.Demo listening / absorbing. Normally I receive songs, typically in demo form, via email or some kind of file sharing website (drop box, send it, etc). Immediately I start listening to the songs, analyzing every detail trying to get inside the song. If the artist sends specifics on what they want, then I'll note that right away and then determine what parts, if any, I can add my own flavor to. I'll also out what the vibe is, the feel, the overall way I should approach the track. Most of my initial ideas are the ones I end up keeping (first instinct kind of thing) but I love experimenting.
 
2. Jamming along. Part of my experimenting process is just jamming along and seeing what comes out. I try to capture the feel of a jam session while doing this, pretending the whole band is there and we're improvising in the moment. Depending on the tune, I may play along with the same feel multiple times or switch it up each time to test the boundaries. 

3.Recording jams. or transcribing. I love to keep a detailed record of ideas, whether it's hitting the record button or transcribing beats, fills, or breaks. I feel I get into the piece more when I transcribe. The act of writing out the music makes me dissect each part more throughly and more clearly think of other rhythmic possibilities. Totally the drum teacher side of me coming out in that! 
 
4. Repeating step two and throughly reviewing notes. This is where I finalize most of my composition. The jams and notes evolve into more solid parts. 
5.Writing preliminary charts. Mostly focused on arrangements, figuring out exact metronome markings, and writing the main beat from each section.  Lots of blank space left for changes or additions. I'll also jam along to the beats w/ just a click and no backing track, ensuring that I have to proper feel locked in and can replicate that in the studio.

6. Writing final charts. Includes every important detail of the song, or in some cases a note for note transcription of the entire tune. The latter depends on the artist or the scenario. I often get asked to improv takes in the studio but I'm always ready to sight read approved pieces if requested. Normally I like to do both so the artist can have both to choose from.  

7. Rehearsing and memorizing (if possible). This I normally do mostly on my own, but if there are full band rehearsals I try to have most of the music memorized or at least just having to quick glance at it. That all depends on how much time there is between the time of composition and the recording date. Could be months, days, hours, or minutes!! Regardless,being a session drummer you gotta be ready for anything. Hopefully my process will give you some ideas & tips on how to make your session more successful and keep you getting offers. Long live drum tracks from real drummers..."Drum machines have no soul." 
Hardware set up @ The Bullpen in Avella, PA this past Saturday January 19th, 2013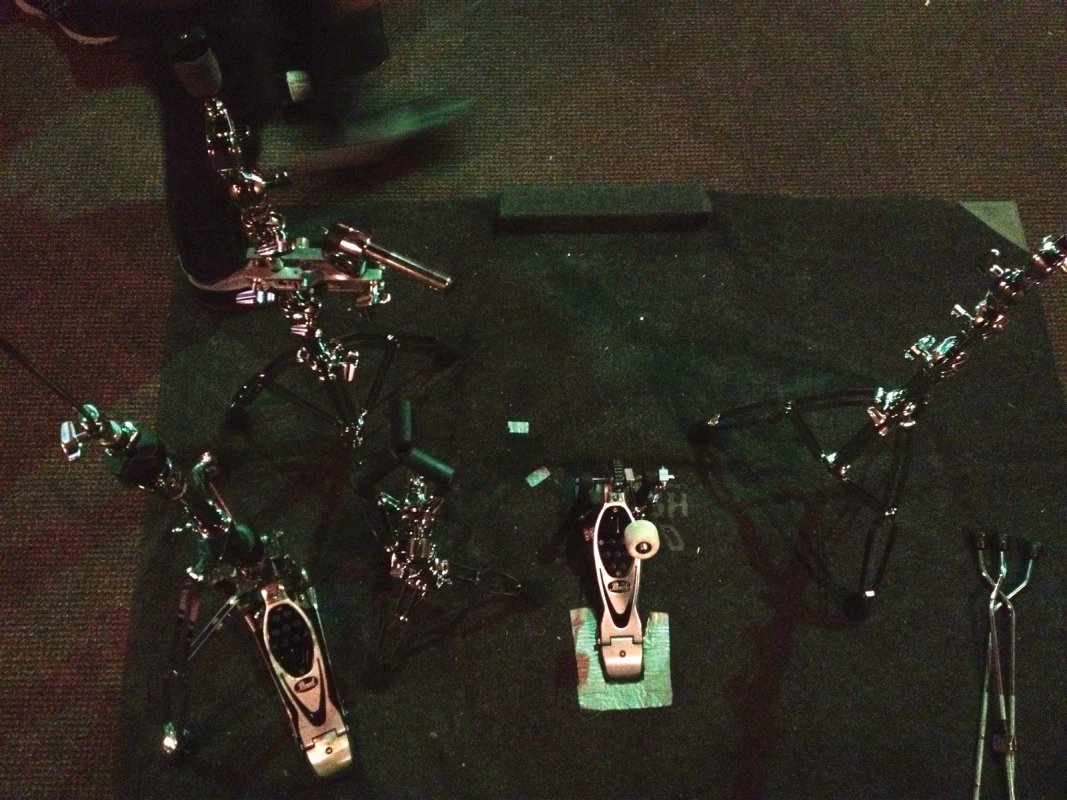 Recently I purchased some stands for my drum kit. I've been mulling over what to go with for a few months now. Did my usual pre-meditated purchase ritual; checked out company websites, went into stores, talked to drummer friends, etc. After all that, I decided to go with Pearl hardware exclusively.   

    My affiliation with Pearl hardware goes back a few years when I purchased their  Powershifter Eliminator pedal. At the time this was their top of the line pedal, which I bought a year before the first Demon Drive model was released. One thing that sold me on this pedal was some of the featured options; switchable cams, 4 sided beater, and an easily adaptable strap drive conversion. There are more cool features as well. I loved it! Pedal was unbelievably smooth & durable. Still is in great shape today! I loved this pedal so much I bought the Eliminator Hi-Hat stand a few months later. Equally as awesome!!

    At the same time I was choosing mounting hardware for the toms on my first custom drum set. I remember back to when I worked at Guitar Center how much I loved the Pearl ISS mount. Even though they were used for the mid level kits, I loved the fact they were lightweight, simple in design, and easy to remove when needed so requested  those. The ISS mounts also made my snare / tom hybrid "The Variable" (see "current set up & blog" page on this site for more details on this drum) extremely versatile with positioning and application. 

    Now this brings me to my most recent purchase. I decided after 10 long years and hundreds of shows I would upgrade my snare & cymbal stands. I do take care of my equipment and do the proper maintenance; replacing felts, rubber pieces, wing nuts, etc. But one issue I couldn't avoid was reoccurring chips on the metal from my road case. There would be sharp edges that would slice my hand during set up, usually just leaving a cut similar to a paper cut. Nothing drastic by annoying none the less! Plus I got a little paranoid with getting metal in my skin. I even tried scrubbing and sanding the rough edges on the stands. Also tried padding the hard case for awhile. Regardless the rough edges still came back. No doubt it was time to upgrade.   

    For the new cymbal stands, I went with the BC-900 model. I did quite a bit of  research online with this selection. I wanted boom stands, but with hiding boom  feature since I usually don't need booms on my kit, but as mentioned above, I like options!  The 900 worked great as a straight stand. The best features are the toothless tilter, which gives you so many positioning options, and the plastic wing bolt on top. The latter feature gave me so many more sonic possibilities live. I was more easily able to control the sustain of my cymbals than before. Worked great live & can't wait to use them in the studio! The BC-900 also has multiple memory locks saving me valuable time with set up.

      For the snare stand upgrade, I went with the Pearl S-1000. This stand is straight up awesome! This is the best snare stand i've ever seen or used! One of my drummer friends was with me when I opened the box and he was also impressed. The patented Uni-Lock system gives you so many positioning options it's ridiculous. My favorite feature on this stand is the rubber L's on the snare basket. It's no secret that the tension of your stand basket around your drum affects the sound. This stand is more dramatic in that department, which is great because now it's easier than ever to do slight adjustments to the overall tone of the drum. I even switched snares on a set break, between a 13X6 birch  and a 5 1/2 X 14 Pearl Sensitone steel shell. Both were easy to swap out and  again, really can't wait till the next studio session w/ this stand! I also ordered the S-1000D, a low basket version of the original, for my 8 inch deep  snare / tom hybrid drum mentioned above. This stand will give me even more options with the drum. Just got the call this morning that it's in so i'll be picking it up asap.    

     I'm totally pleased with my purchases and look forward to getting many great years out of this new stuff, as well as tacking on more with the gear that's been in my arsenal for years already. 


   My workday normally starts in my office / drum room. Before any drumming, lesson plans, emails, texts, calls, etc happens, I like to start by watching an inspirational drum-related clip. Gets me psyched for the week ahead! My clip of choice is usually a live performance but recently I've been searching old interviews, which has been extremely inspiring and educational.   

    For this week's blog I decided to post this four part clip from Vic Firth's Artist Spotlight series, which is a sit down with Steve Jordan. I've actually watched this numerous times in the past few years, and revisited this morning. I recommend watching it early morning with coffee, regular or decaf you wont be disappointed!        

   I first got into Steve when I was started heavily studying R&B / Jazz fusion right after high school. I was always liked rhythm & blues; hearing it from my mom's radio, learning popular tunes, etc, but I really got way deep into R&B drumming that was mixed with a Jazz feel around 1997. I was working at a used CD store and stumbled up Patti Austin "Havana Candy". The cover looked vintage and I noticed the album was recorded the same month I was born, August 1977. I gave it a spin and the right out of the gate the first tune had an awesome feel. The drummer was playing smooth and tasteful, playing an awesome balance of notes and space. It was Steve Jordan. I still continue to this day to seek out records he's done.     

    The following clips contain some great personal stories, as well as serious tips on being a professional drummer. This is worthwhile to any player. Enjoy! 




*Steve also has a great instructional DVD called 'The Groove is Here". Definitely recommend checking it out. 

Happy New Year! This week's blog features an interview I recently did for The Holiday Cafe. For those who are unfamiliar, The Holiday Cafe is a really cool online literary magazine focusing on the arts, with most of the writers/ artists being from the Pittsburgh area. Click on this link for the full winter 2013 issue;

www.TheHolidayCafe.com

. Lots of great written works and beautiful art as always! Really appreciate the drum school shout out! Thanks to all involved!! :)  

Class Is In Session - An Interview with Chris Belin of The Traveling Drum School By Natalie Sebula 




When I noticed that you were looking for someone that inspires the community I instantly thought of Christopher Belin. He is the sole proprietor of the Chris Belin's Traveling Drum School as well as being a professional drummer. I have had the opportunity to know him for several years. Since then I have noticed how Chris has impacted the community with his drumming and teaching skills. I interviewed him and here is what he had to say:




 If there was one thing you wanted people to know about your business…what would it be? 




As a teacher, I'm committed to developing an individualized curriculum for each student, based on their interests & goals, to ensure their aspirations of being a drummer become reality. As a freelance drummer, I give 110% all the time. Every note I play is done with heart, portraying my deep love for music. 




How do you feel your business has impacted the community? 




Thus far I feel the Traveling Drum School has had an extremely positive impact on the community. No matter what, my teaching approach is always positive and encouraging. It's gratifying to see students convey the same or similar philosophies in their playing & attitudes. Many students have been able to perform in the areas where they reside, whether it's a school band program or their own bands. Some have even had the opportunity to tour and post drum clips on the internet, showcasing their skills on a more global level. 




Lastly, what is your future endeavors in the business? 




My goals are always to take my business to the next level, keep growing and evolving with the times. Teaching more diverse students, releasing instructional books, and performing with more bands/ solo artists are goals I continue aspiring to achieve. 




For more information on Chris and his

Traveling Drum School

check out his website

www.chrisbelindrums.com

. He will also be releasing a book in 2013.

0

/