Shopping Basket
Your Basket is Empty
There was an error with PayPal
Click here to try again
Thank you for your business!
You should receive an order confirmation from Paypal shortly.
Exit Shopping Basket
Traveling Drum School & Freelance Drumming
 I'd say most people would agree music plays a huge part in the holiday season, from the traditional carols and jingles to our favorite artists interpretations of standards, or even some new compositions with a holiday theme. Regardless of genre preference anyone can find holiday music to fit their tastes these days.

    For the past few years I've been breaking out my Diana Krall album "Christmas Songs" to get into the spirit. Originally released in 2005 the collection features classics like "Jingle Bells", "Winter Wonderland", "Santa Clause is Coming to Town", among others. All the versions are great and I would highly recommend the album to any Jazz fan, but favorite part of the record is the drumming of Jeff Hamilton. His playing, especially his brush work on "Have yourself a Merry Little Christmas" is top notch, tasteful, and inspiring. Jeff has been one of my favorite Jazz players in recent years. He's well respected as a drummer and also as a band leader.  I always enter a heavy brush phase after listening to this album. Here's a sample clip of his Jeff's brush work I really dig. He also offers up some great techniques tips, which I use all the time in my playing. Hope you all enjoy! 
 *The Positive Spin on Drums weekly blog will resume on Monday January 7th, 2013 due to the holidays. Hope everyone has safe & happy holidays!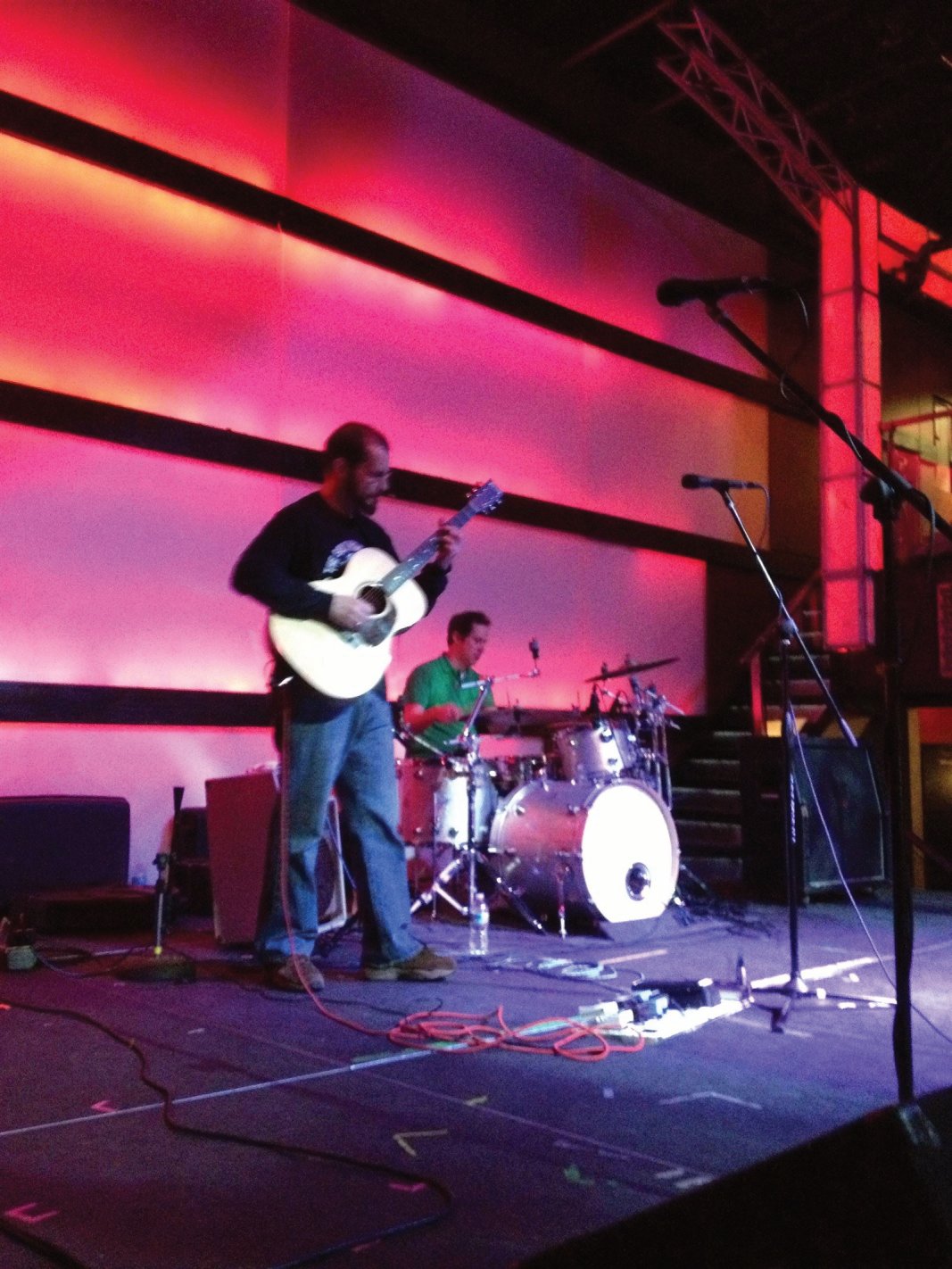 Last night The New Mingle performed at Club Diesel in Pittsburgh. The show was dubbed "Violence Wont Silence the Music", a benefit for Dave Whaley. For those who are unfamiliar, Dave was assaulted on the South Side a few weeks ago and was badly injured. There has been news coverage on this as well as benefits held to help raise money for Dave and to bring awareness to the increasing violence that has been occurring on the South Side.     
    The New Mingle, Matt Calvetti & myself, both found out about this incident the day after it happened. We've both known Dave for over 10 years. Dave is a fellow Pittsburgh based drummer and works at Dave's Music Mine, one of our favorite record stores. We already planned on donating to the cause but then we got the offer to do the Diesel show. We gladly accepted and it turned out to be an awesome night! Most importantly money was raised and the show made press. Plus besides supporting Dave, the overall cause was something I firmly support. The south side has changed a lot since the days when I first met Dave. There has been increasing violence and a consistently bad vibe there, mostly on the weekend nights when the bars & clubs are packed. I started to really notice this in the late 2000's and since then have mostly just been there during the daylight. Even walking the streets before the show yesterday I noticed trash and beer bottles littering the sidewalks, remains of last nights ruckus i'm sure. Action needs to be taken to clean this area up. I took the Pgh bus tour for fun a few months back and when we got to Carson St., the tour guide said there was 150+ bars on this street, more than any other street in the USA, even Bourbon St. in New Orleans!  A lot of people I know are like me in avoiding this area. I signed a petition at the show to make this more aware to those who can hopefully bring some much needed security back to the south side, especially for the sake of the residents and businesses.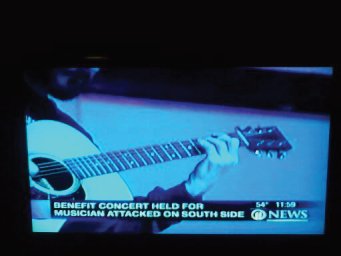 Musically, every band was excellent! There was such a diverse mix of groups, everything from Pop Punk / Alternative to Synth Metal to laid back vintage R N' R to great tribute groups performing Rush & Rolling Stones tunes respectively. I'm a fan of all music so I had an awesome time! We had a great middle slot and during our performance I noticed a camera crew filming us as well as the crowd. I heard after the set we may make the channel 11 news. Then I got a text around 10:15 saying we were on the 10 PM news! Totally missed that but luckily they replayed it after the Packers game around midnight. I thought it was a great clip. They got a quick interview with Dave, as well as one of his close friends / organizers of the event. He had who some very nice, and very true, words about Dave. Right after that the cameras got some quick individual clips of me and Matt performing (no audio but we were playing "In the Audio Ocean", a song from our EP, which can be downloaded for free on our Reverb Nation page). I unintentionially rocked my variation of the classic drummer face for the cameras, performing on Matt Kastner's sweet DW silver sparkle drum set. For all the drummers out there, he had the toms fitted with the Evans chrome heads, which sounded killer!  Matt K. and I have been friends for years, but have never shared the stage together. He's a great player and his band, Second Empire, rocked the house.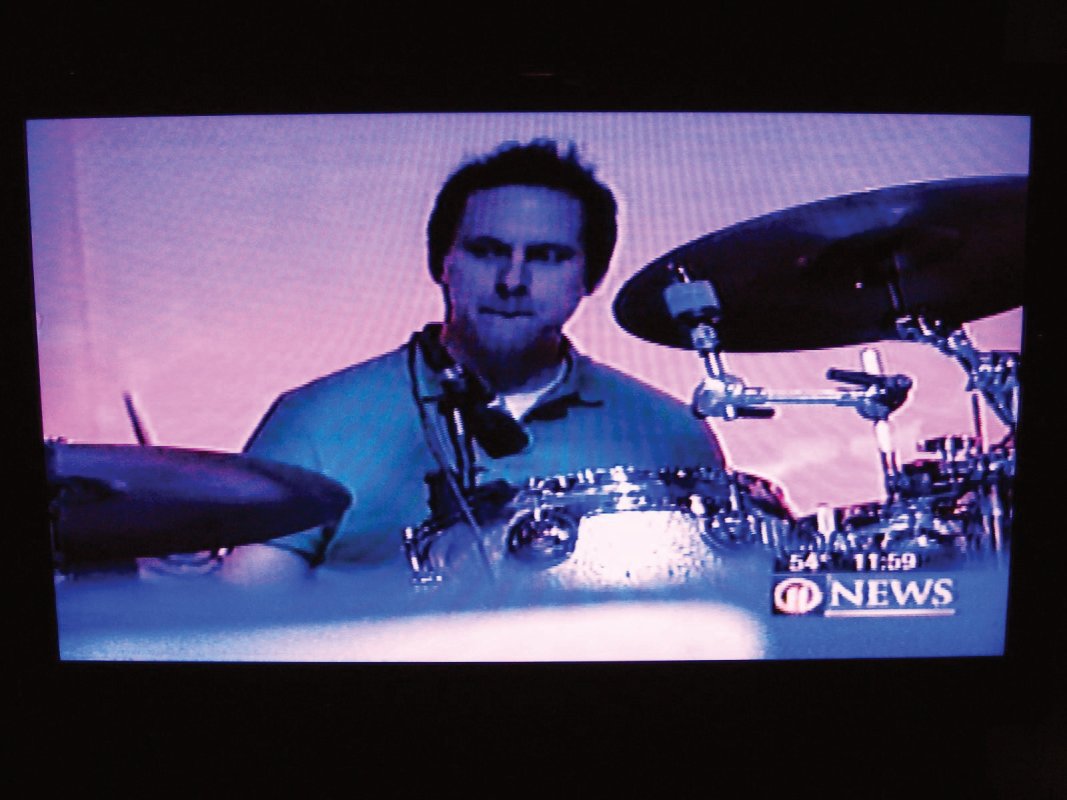 I searched all over the web for the news clip from last night, but I can't find anything. Someone please send me one if you do. I do have a VHS version (kicking it old school!).  There are still clips online from the original incident on the KDKA & WPXI websites. Below is the link to the official Dave Whaley support page where you can donate, buy an official t-shirt, get info on where to sign the petition, find out about other benefits, or find links to all the bands who've taken part. The New Mingle reverb nation link is also below. Our entire EP is downloadable for free!! Hope you like! 
Dave Whaley Support Page; http://www.facebook.com/DaveWhaleySupport
The New Mingle: www.Reverbnation.com/thenewmingle
                          www.youtube.com/thenewmingle
 Tipping the bucket percussionist, downtown chi-town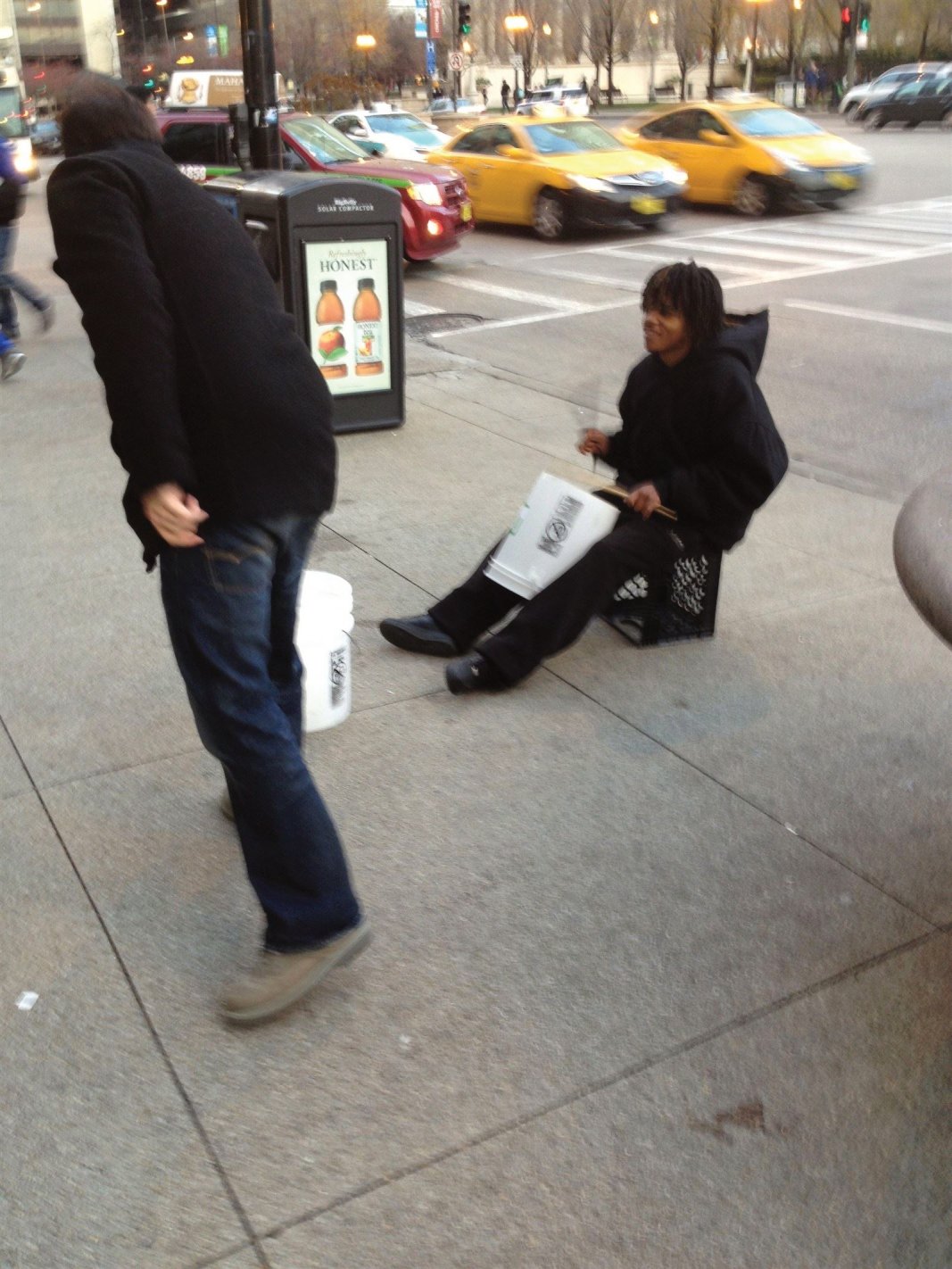 I had a truly amazing time in Chicago this past holiday weekend. Not only did I get to see so much of the city with my awesome girlfriend Natalie, I also got to experience some great music related moments as well. Here's a few highlights I recommend any musician, especially drummers, who visit the windy city should definitely check out.    
    Chicago, IL has a well documented musical history. There are tons of famous artists, bands, & venues from or based there. Doing a google search can lead you to many destinations throughout, which I did on my first trip a few years back. The Green Mill jazz club & Steve Maxwell's drums is what I checked out last time, both awesome!!       
     For this trip, Natalie & I bought tickets for the Million Dollar Quartet at the Apollo Theatre. This is a musical based on a famous December afternoon in 1956 where Elvis Presley, Johnny Cash, Jerry Lee Lewis, & Carl Perkins had a jam session @ the infamous Sun Studios. We ordered tickets online & when we arrived we realized the seats were front row! I had an awesome view of the drums as well!! Dan Leali was the drummer for the night. He played very tasteful, capturing the proper tones and feel of the music. He did all that on a great sounding vintage Ludwig, appropriate for the setting of the musical.
Jazz Record Mart, 27 East Illinois St. Chicago.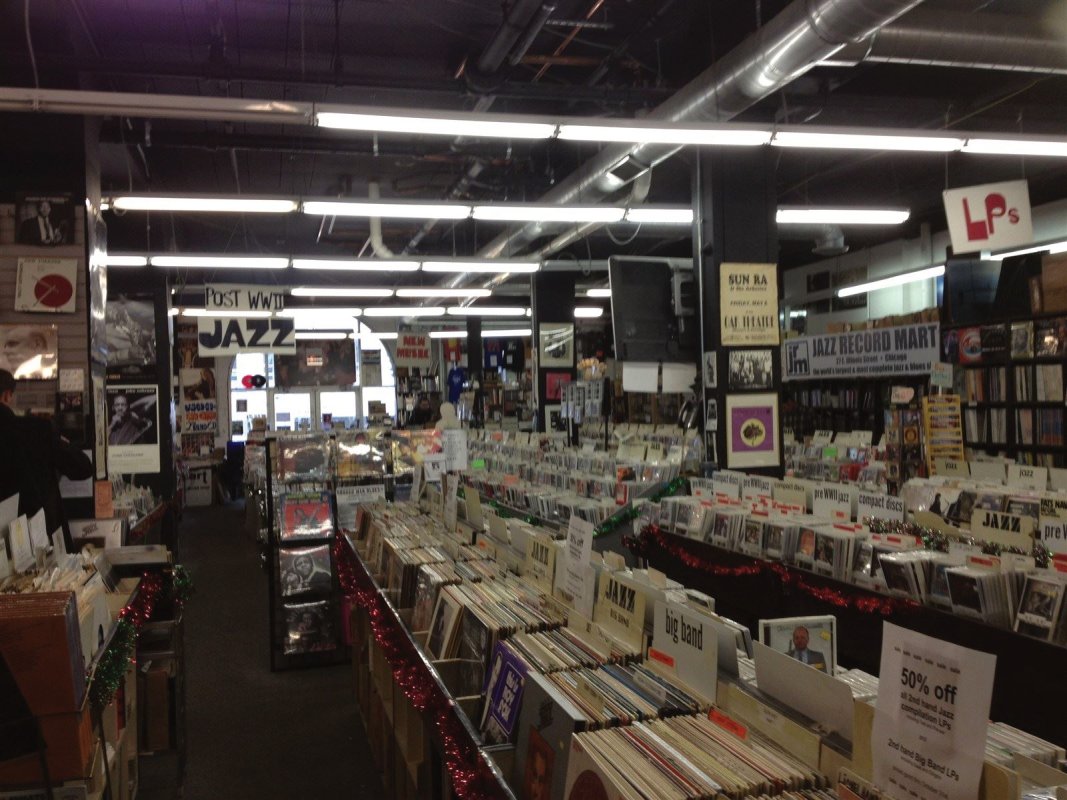 The next morning I searched Chicago record stores on the web. The first hit was Jazz Record Mart, which was about two miles from our hotel. When I walked in I was blown away; a Jazz based music store carrying mostly vinyl records! I didn't think a place like that existed!!  There were CD's too, but many more records. There was some R&B and a few Rock titles, but it was seriously Jazz based. New & used stuff, rarities, must-haves, and so much more. I picked up a Grover Washington Jr. record for $2.99, which includes a 15 min instrumental version of Marvin Gaye's "Trouble Man". Good stuff! The staff was really cool & knowledgeable as well. I couldn't spent the whole day there no prob!       
    This trip was more about a quick romantic boyfriend / girlfriend get away, not focused around visiting all the music related stuff and performing. I'll be back because there's much more to experience. No matter where we went, there was music appreciation everywhere. Whether it was musicians performing in the streets, advertisements for bands playing, Piano stores in the downtown area, or just seeing a people walking around with guitar cases, Chicago is without question a very hip place for music.
Product Review:
Getting Started on Cajon with Michael Wimberly  (Book / DVD combo package)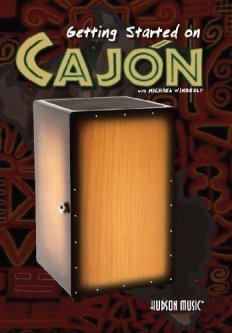 Recently a few of my current <Traveling> Drum School students purchased cajons as their first piece of hand percussion. Not long after, I had a new student contact me and she exclusively wanted to learn the cajon. All of them started asking questions about this cool little box drum and wanted to learn as much as possible about it. So I began my normal percussionist curriculum as I've done many times before, adjusting it a bit to accommodate the cajon and it's tonal possibilities. I already knew quite a bit about the cajon but last week while picking up drum supplies I came across this instructional combo package. Looked like pretty basic stuff based on the front cover description. I also didn't totally recognize the percussion instructor at first, but his name did sound familiar. Upon reading the back cover, I came to the conclusion this could be a great purchase to get more acquainted with the instrument.      
     I was right on the money with this purchase! Not only does this package give an excellent background on the cajon, but it introduces the main tones and how to achieve them properly. The content is definitely intermediate to advanced. The book contains a great variety of traditional rhythms and how to apply them using all the tones. You definitely have to have a minimum intermediate level of reading notation to fully grasp the book concepts. In the video, Michael performs all of the rhythms, as well as playing along to music and providing ideas for how to use the drum in all types of music.      
   Michael's teaching approach is concise and his playing is top notch. Upon reading his bio, I realized I did recognize him from some of the artists he's worked with.      
   I really enjoyed this entire package and would recommend it to any percussion instructor or aspiring drummer.
*PLEASE NOTE
"The Positive Spin on Drums" weekly blog will resume on Monday December 3rd. I'll be away on 11/26 visiting the always musically inspiring city of Chicago, IL for the holiday weekend. Hope everyone has a Happy Thanksgiving! -Chris.   
   This week's blog features the new music video for "Wild Child" by The Satin Hearts. This is the official first single from our album "Living On Overdrive". I've mentioned before in previous blogs about this song receiving lots of radio airplay throughout the United States and parts of Canada. The worldly buzz is still going strong, plus some college stations have started to play other songs from the album. There are multiple album reviews posted online. Top40-charts.com said "
Wild Child
is a standout tune with a ska-tinged beat, jangly guitars, mesmerizing feel and satin smooth vocals".      
   This video was shot this past Friday at Peter B's in Sarver, PA, which is a really cool music venue for those who are unfamiliar (link below). Andrew Obenreder from I4eye Media did an awesome job yet again of capturing us. I really all dig all the work he's done for us. Andrew did the artwork for the album as well as group and individual band shots. His site link is also below.    
    "Wild Child" is a special song for me as I got to play conga in addition to drum set on the track. The song was in our set list for quite awhile prior to the recording. When we went into the studio to track the parts, it was a smooth process to lay down what we down live. Marci played shakers just like she does live. Felt really good and sounded great, but the proposal came up to add some more percussion. Immediately I wanted to add conga, to flow with the vibe of the song. It's purposely in the background but if you listen real close it's there, just adding a little flavor!  
Links;
The Satin Hearts
www.thesatinhearts.com
14eye Media
www.i4eyemedia.com
Peter B's
www.peterbonline.com
   For this week's blog I decided to focus on a scenario most performing drummers have to often deal with in their career; Not being able to use your own gear. Sharing equipment, or using back line gear, can occur often for drummers who play multiple band bills, or who play at venues (and sometimes recording studios) with stationary house kits. Limited touring budgets and traveling by airplane can also play a factor in whether you can bring all your equipment. There could definitely be other scenarios but the above I've experienced on numerous occasions.
1950's Ludwig @ Broadcast Lane Studios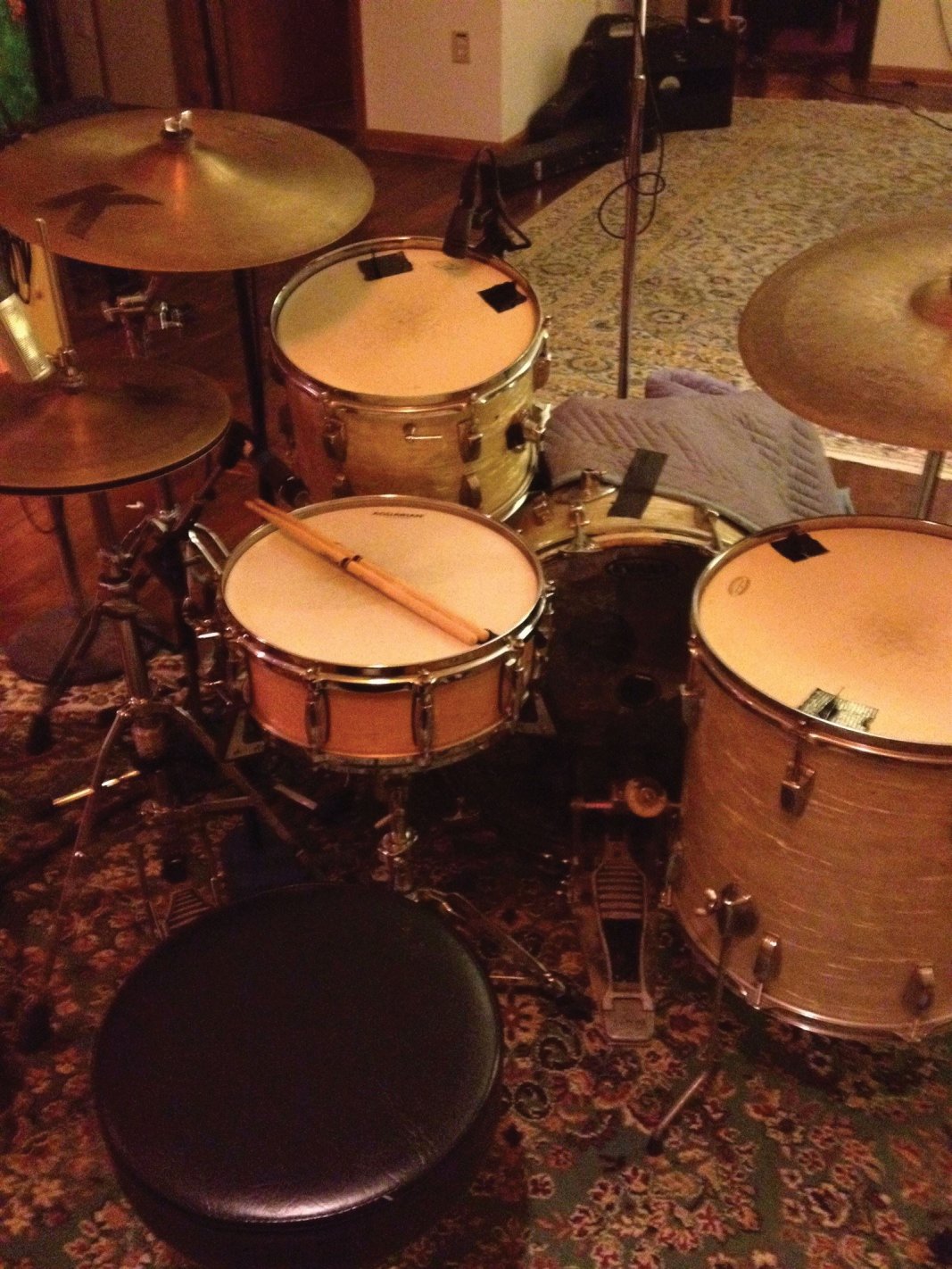 Recently, I've had multiple situations where I needed to use house equipment. In the past i've had a mixed bag of using well maintained and not so well maintained gear. Thankfully, all of these recent experiences have been good! No matter what I always have my "breakables" on hand. Drum breakables is a term drummers use to describe the following equipment that is usually brought to a gig where you can't use your whole set. It's a list of gear most drummers don't feel comfortable letting other drummers use. Most importantly, it's the gear that defines the biggest portion of a drummers sound and touch.
The top 4 drum breakables; 

Sticks
Cymbals 
Pedal 
Throne 

You may not need all of these, or you may like the gear you're allowed to use better. Regardless, you know you can count on at least capturing some of your sound and feel with the above items. Some drummers include stands, especially hi hat & snare, in their breakable list.
Tama Starclassic maple house kit @ Mountaineer Casino.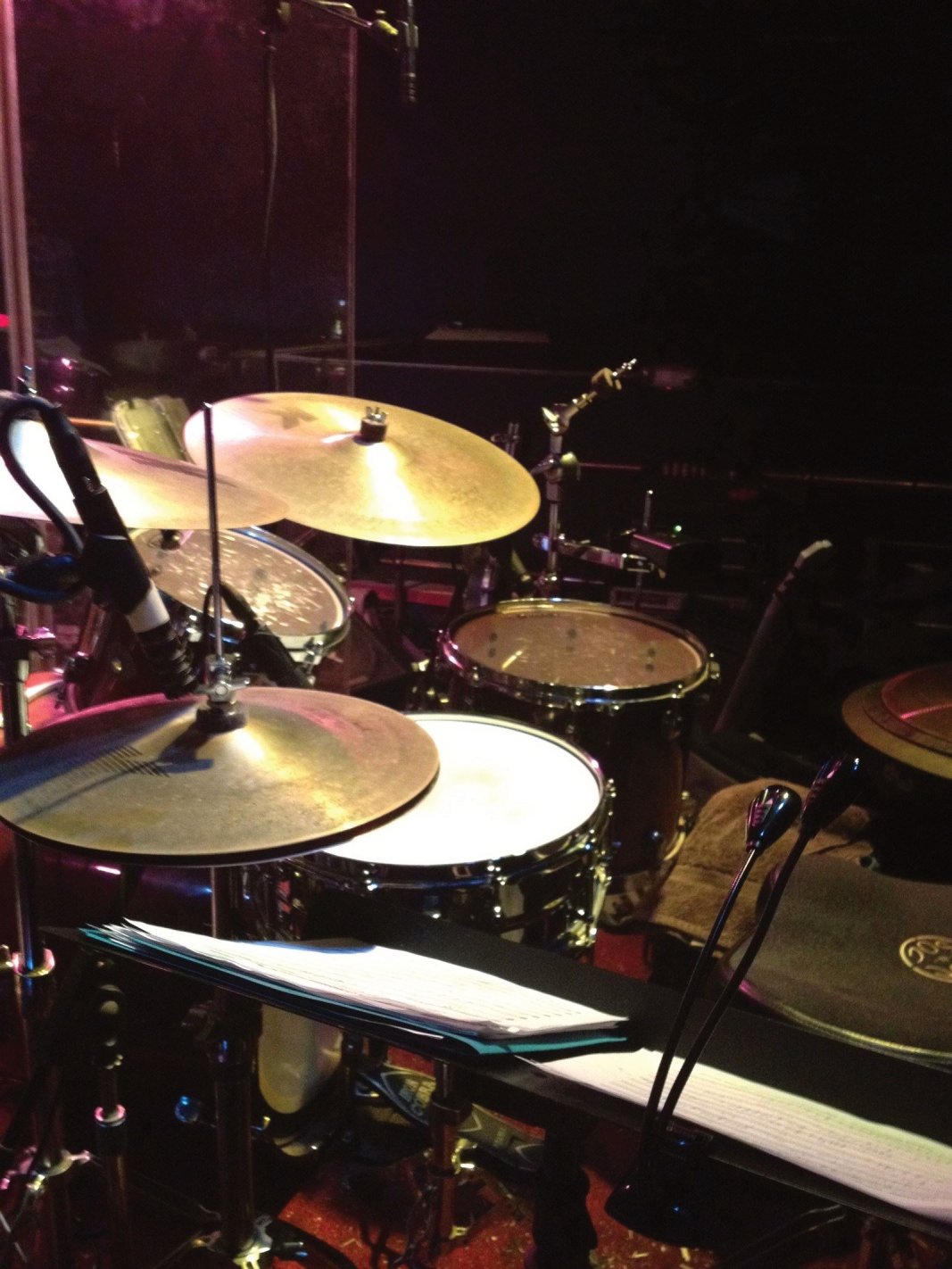 I always contact the owner of the equipment I'm using to discuss specifics beforehand. This is especially crucial if you're normally used to using a unique set up, or if you're left handed. Any pre-planning will make the pre-show set up much smoother.     
   Lastly, it's not always the best idea to ask a drummer if you can re-tune a piece of their set in a live situation. Usually just best to deal with whatever it sounds like and focus on getting your snare to sound as you like it, or adjust your snare to blend with the toms and bass. I've asked to adjust the overall tuning a few times if the sound of the drums greatly contrast what I feel is appropriate for the band / artist i'm performing with.      
   No matter what, I always put everything back the way I found it. That is the biggest lesson of this week's blog! I've gotten so many compliments and respect from drummers, soundmen, club owners, etc. And after the great feedback I usually hear horror stories of the drummers that don't do that!!  
This week's blog features a video by The New Mingle. Matt Calvetti and I just finished the edits which highlights our recent August performance at the "Run Around the Square'" event. For those who are unfamiliar, this is a 5K event with a separate walk & run held in the Edgewood/Regent Square area of Pittsburgh, PA. It's a beautiful area of the city, and there are musicians featured throughout providing the soundtrack. The following clip highlights our performance. Hope you all enjoy! 
  The Story Behind This Year's Theme
  This is our third consecutive year performing at this event. The first year we were unsure of what it would be like so we just planned it as a normal New Mingle gig; a set list with original compositions, a few select covers, and most likely some live improvisation. We had so much fun the first year and such a great crowd response (even though most of them were running past us!). We were psyched when we got asked back for the following year. I then proposed to Matt for our second race gig that we do a song from the Rocky movies. We chose Bill Conti's "Gonna Fly Now", from which we received some great post show feedback. 

   One event that spawned this years idea occurred on the 2nd show. While I was playing I looked up and noticed <Traveling> Drum School student Kenny Brown, who stopped and gave a thumbs up (captured in clip below!!). After that, I proposed to him he should stop and play a tune with Matt. He previously learned 'Seven Nation Army" from the White Stripes and I had played that tune with Matt years ago in a previous band. Everyone agreed and refreshed the tune. Kenny proposed we do it like a relay. I thought that was awesome! I definitely had intentions of running around the block but the blocks were long in that area. So I just ran down to the the end of the street and back. Felt good to stretch my legs mid set!!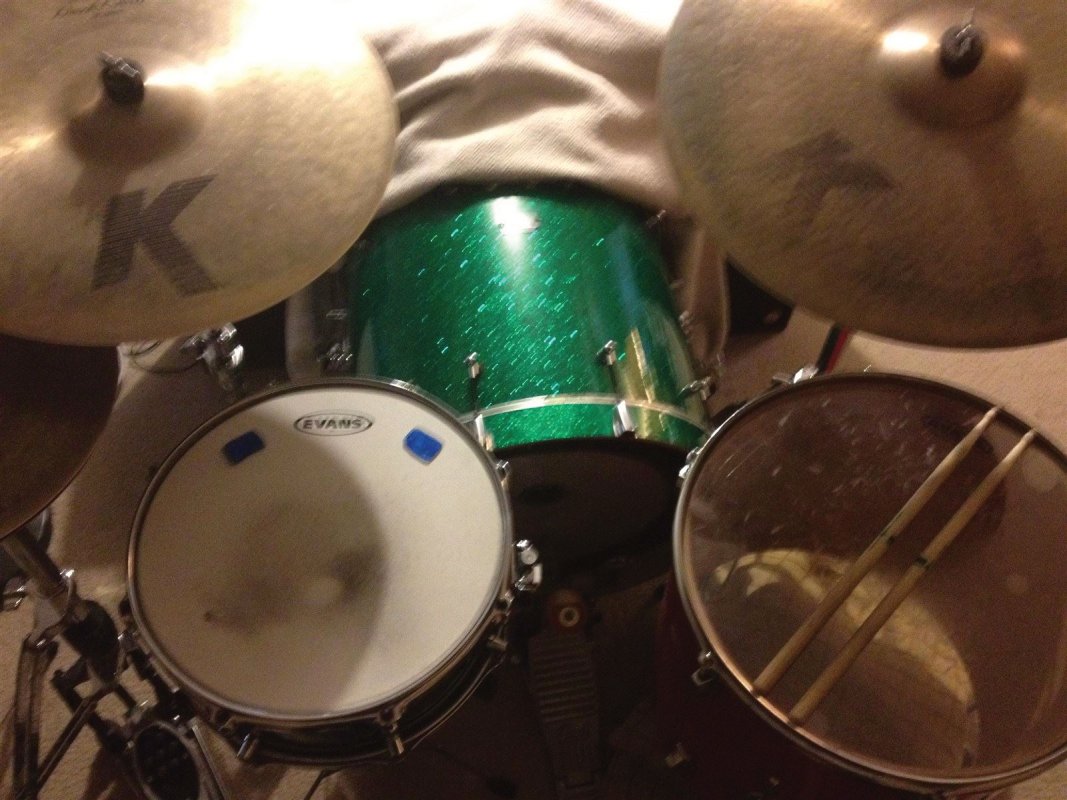 Bright and early this morning, after a late night of catching an amazing Fiona Apple performance, I did a session for JG Boccella, laying down the drum tracks for his upcoming single "Unstoppable". JG emailed me the file for the track roughly two weeks ago and I've been working out ideas since. This is the third official studio track I've done for him, but I've been a long standing member of his live band since 2005. We've had many great times together and this morning / afternoon was another one of them. After a great conversation over coffee & pastries, we got down to business. 
    For the drum kit, I went with my typical live show kick / snare combo; 13X6 10 ply birch snare and 20X18 8 ply birch bass drum. Usual cymbals as well; K custom darks including 13 inch hats, 18 inch crash, and 20 inch ride. I added some subtle muffling to the crash & ride.  For the floor tom, I borrowed a vintage Royce 16X16 from my roommate. It's an "almost vintage" model with a mostly mahoghany wood shell. I found this gem at Music Go Round in Monroeville for $5! The drum has a nice warm tone but doesn't have a bottom head, or all the parts for that matter! The top head is an Evans hydraulic which gives the drum a super low end. It was a little too much low end so I tuned it down a bit. I also placed a small pillow underneath the floor tom, which helps to dry up the sound and eliminates some resonance. This drum wasn't dominant in the track, just used occasionally for single hits. Worked out awesome!!     
    I'll be posting updates on track completion and release details, but in the meantime please check out his site for more info;  www.jgboccella.com  

    This week's blog is all about Shazam and how it's greatly impacted me as a music fan and professional drummer. I've been using the app regularly for a couple years now and it's revolutionized the way I discover new music.  
   For those who are unfamiliar, Shazam is an application that gives you song info on almost any song imaginable. All you have to do is open the app, press the circle in the center, then hold your device near an audio source. It will then recognize the song and display info, including title and artist, plus an iTunes link where you can immediately purchase the track. You can also scroll down the screen and find artist bio, lyrics, video clips, tour info, etc. There is even a history section where you can look at your past tags. 
     I've used this at red lights, in clothing stores, and even at concerts when really cool pre-show music was being played over the PA. Shazam normally just recognizes original studio recordings, but hopefully someday it will consistently work during a live performance. It can be used pretty much anywhere and everywhere, as long as other background noise is at a minimum.     
   For all you drummers, this is an indispensable tool for advancing your playing. I'll Shazam songs that have great patterns I want to learn or stuff I want to use for lesson plans. I'll be listening to Sirius radio and discover an amazing shuffle variation I've only previously learned from a book so Shazamming it gives me a great audio example I may have never come across. Or i'll hear a tune based around a rhumba clave pattern and really dig what the drummer is adding to it. I've gained a ton of drum knowledge from having Shazam. 
   The days of missing songs is over...for the most part! There have been a few instances where it wont recognize a song, but that's few and far between. Plus there are always updates to this app that continue to improve it.       
www.Shazam.com
has all the latest info including devices it's compatible with. 
    Lastly, the app is currently FREE! Music fans, you have nothing to lose!!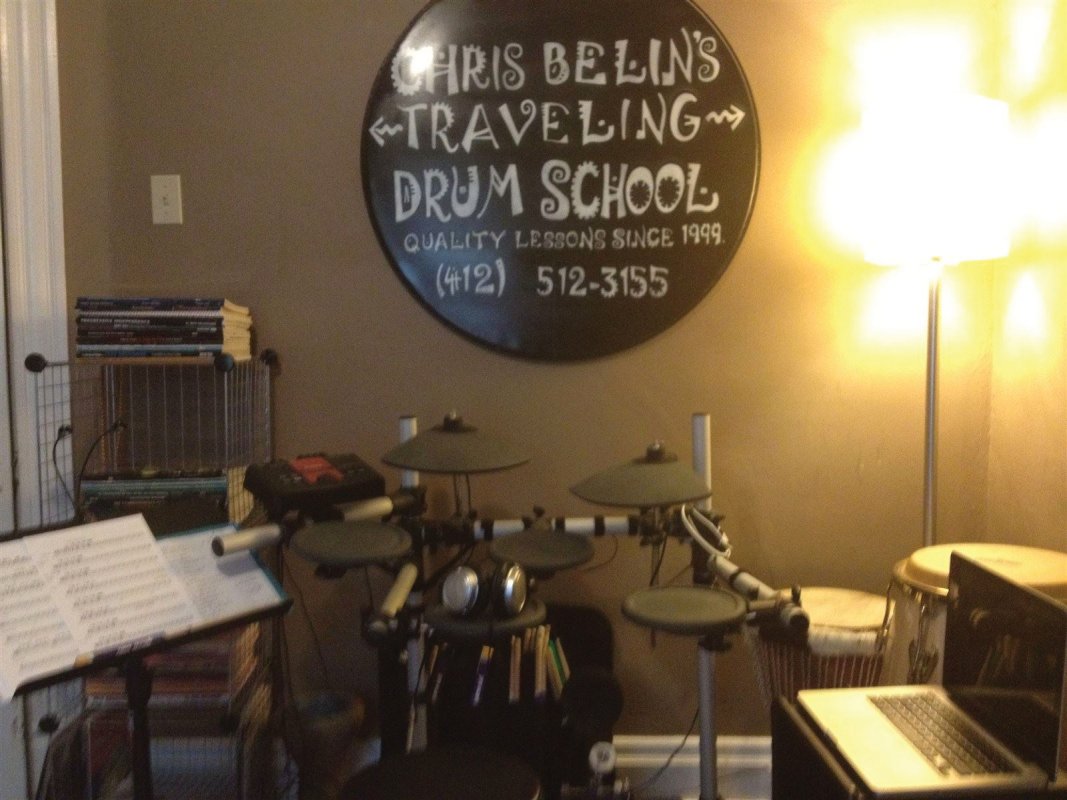 Back in early September I received an email with a fill-in opportunity. I was recommended to the band leader by my friend, who is the guitar player in the group. The bandleader stated that their drummer wasn't able to do the show. I requested their song list and noticed there were close to 200 songs, ranging from Jazz to R&B to early Rock N' Roll to Latin styles. I was psyched because I knew roughly 90% of them, either by performing with other groups, previously learning on my own for fun, or teaching. I emailed back and said I had to wait a bit to commit as my schedule on the night of the gig wasn't 100% solidified yet. In the meantime, I was asked to meet with the band for a quick jam session. I can prepared as always, having quickly gone over as many tunes as I could. When I arrived they were very accommodating by having a full drum kit already set up. I then received a list of songs they did at a previous show, 49 total, which most of them I already knew in some capacity. We ran through quite a few tunes and I made specific notes on their arrangements / versions of the tunes.     
   Shortly after the rehearsal I was able to commit to the gig and have been working through all the tunes, refreshing myself on previously learned songs and acquainting myself with the unfamiliar. Having over 10 years experience doing fill-in work, I have my systems of learning down pat and i'm no stranger to learning lots of songs quickly. I start with listening, absorbing all the songs and getting the vibe for each one. Then I start playing along and seeing which ones or which parts come naturally. Next comes the charting process. I normally write out basic arrangements to start, but get more specific with challenging or unfamiliar stuff. I also always figure out the tempos for every tune, even if I am not required to count them off at first (anything can change!). For this gig, I actually ordered some sheet music online, which will save me some time. My charts are completed in a timely fashion so the bulk of my preparation time is spent playing. This is crucial because most of the time the bands I work with are very busy and there is little or no rehearsal options. Plus it is typical for a freelance drummer to charge for rehearsals, which I normally do unless special circumstances.     
   In my current living situation I have the luxury of practicing and playing on two different drum sets, acoustic and electric. My electronic set is in my office (pictured above) with my computer connected right in for the perfect mix of live drums and pre-recorded music. In fact, each year technology makes my process more efficient. I regularly use You Tube, Soundcloud, Dropbox, & Bandcamp to acquire songs. There's quite a few other choices for legal file sharing out there so I'm always staying hip to the new. Some artists still use CD's and even in the last 5 years I've received cassette tapes! Regardless, with an 1/8 audio cable pretty much anything can be imported. After I throughly run the tunes in my office, I then move to the acoustic kit. My initial focus is on getting a sound for each gig (proper tuning is crucial). Then I play the charts without music at first, then with music. That process repeats daily over and over until the show date. 
   For a last review, I listen to songs I'm performing or songs in the same genre on my way to the show. Then upon arrival, my soundcheck is comprised of parts from the set list, no drum solo goof offs while checking levels! I never want to disappoint the band, and having the sound man on your side is a definite plus as well.  
/